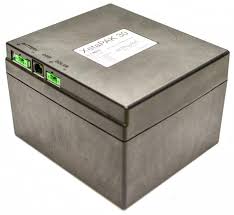 XetaWave has released the XetaPAK, an advanced, long lasting smart battery that represents an entirely new approach to batteries used in remote telemetry sites. As a drop-in replacement for 12 AH, 24 AH and 100 AH lead acid batteries, the XetaPAK is lighter, longer lasting, higher capacity and offers monitoring capabilities not available with traditional lead acid batteries. Instead of being just a battery, the XetaPAK adds a MPPT (maximum power point tracking) solar panel controller, load current limiter, low voltage shutdown, battery temperature management and data logging through Modbus all in one insulated package. The XetaPAK offers unsurpassed reliability, is invulnerable to abuse and has a very long life. By contrast, today's typical lead acid battery offers no ability for monitoring and needs to be replaced on a regular basis, sometimes as frequently as annually, requiring the costly deployment of field resources and the cost of repeated purchases.
The XetaPAK is available in three versions – XetaPAK15 offers 15 amp hours (AH), XetaPAK30 35 AH, and the XetaPAK135 135 AH.
Contact sales@elevatewireless.com for more information.